Training your dog takes time, patience, and the right collar. Contrary to popular belief, the best dog training collars aren't intended to zap your canine companion, inflicting pain every time they disobey. Instead, they provide positive reinforcement and help control your dog's behavior, even when you aren't around.
From Martingale to remote training collars, there are so many options on the market. If you're hoping to learn more about each of these collars and find one that will work well with your dog, keep reading!
In a hurry? Check out the Halo Dog Collar by Caesar Millan – our top pick for its impressive range of features!
Our Top Dog Training Collar Recommendations
With any of these options, it's recommended to seek help from a dog training professional. We highly recommend checking out this FREE Dog Training Workshop to understand which training collar you may need.
1. Halo Dog Collar (Best Overall)
Quick Look:
You get training material from Dog Whisperer Cesar Millan.
It has a GPS tracker, invisible fence, and activity tracker
No wires to install, and water resistant
Several feedback mechanisms to choose from
Suitable for dogs weighing over 20 pounds, from five months old
Find this training collar on the Halo Online Store
Training your dog to stay in a designated area doesn't just prove that you are a good dog owner. It is also essential to keep your furry friend safe, even when you aren't around. By creating up to 20 virtual fences, the Halo and Halo 2+ dog collars offer everything you could need for training your dog.
Building dog-safe fencing in your backyard or even installing an underground wire fence can be challenging. A virtual fence can provide the convenience and functionality you're looking for.
With a Halo collar, dogs receive a stimulation instructing them to stop when they go outside of a predetermined perimeter. They can be trained to remain in their safe area with practice and time.
As one of the best dog training collars currently available, it serves as an activity tracker, GPS tracker, and virtual fence, making it essentially a 3-in-1 tool. It's an excellent alternative for most sizes and breeds, though probably not for little dogs.
2. SpotOn GPS Fence (Used to Train Your Dog to Stay in Certain Areas – Best Wireless Fence Collar)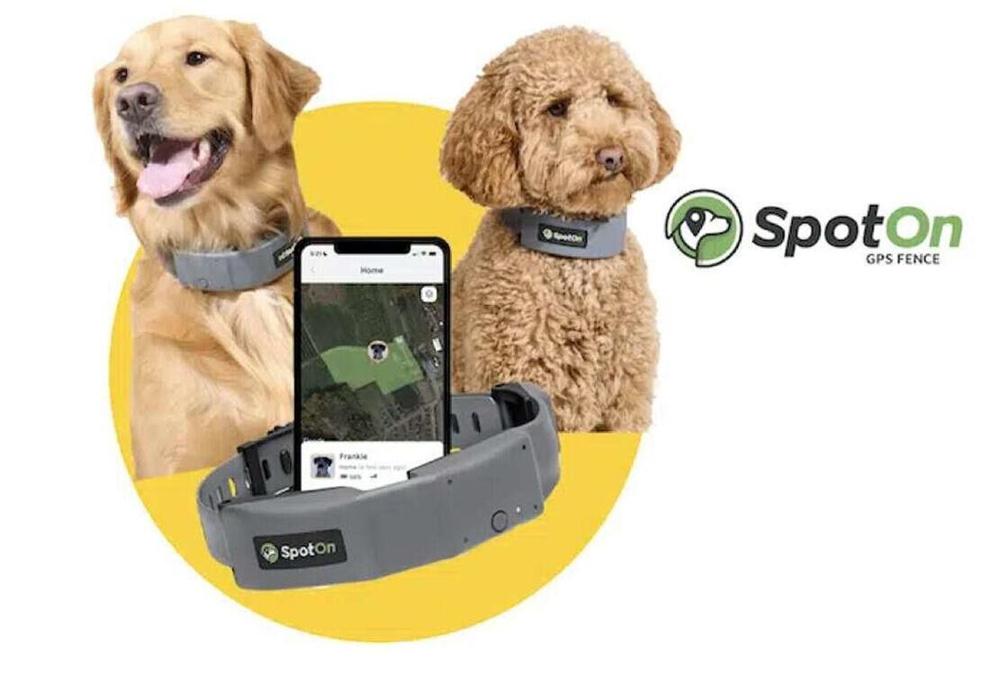 Quick Look:
You can use this system to create overlapping fences
Simply walk the perimeter of the containment area by setting up a fence
There's no need for Wi-Fi connectivity or cellular service
Track your dog at all times within a three-mile radius using the GPS feature
This is the ideal dog training collar system to train hunting dogs in the country
Get the SpotOn Fence System from the Company's Online Store
Similar to the Halo Dog Collar, this virtual fence system uses behavioral cues, including tones, static feedback, and vibrations, to teach limits to your pet.
It can locate your dog within a three-mile radius, which can help you always ensure his or her safety.
The SpotOn Dog Fence System is best for country dogs who like to play in big, open spaces where there might not be adequate internet connectivity and cellular service. You can use it to build invisible dog fences that overlap across large areas, which is another plus!
However, this system is also unsuitable for small dogs because the collar is simply too big to fit around a little dog's neck.
3. SportDOG FieldTrainer 425X Remote Trainer (Best Remote Dog Training Collar)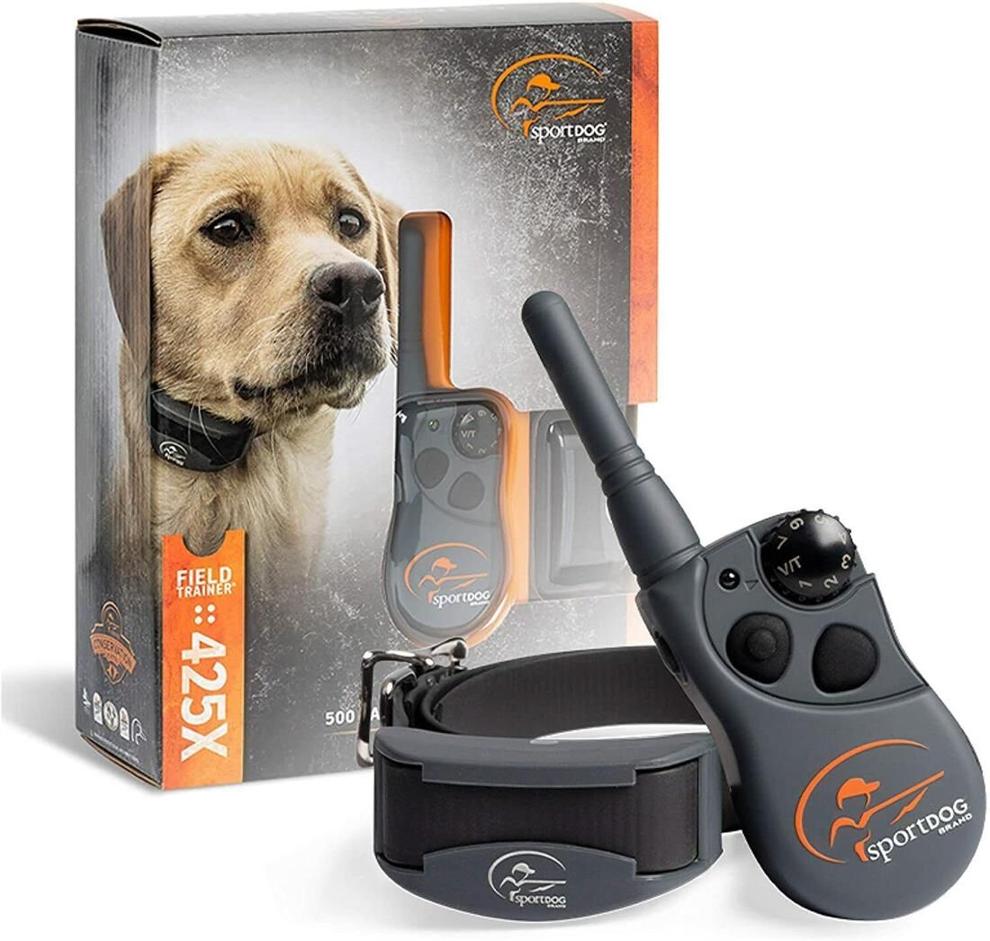 Quick Look:
Waterproof collar with an impressive range
21 static stimulation levels to get your dog's attention
It can be used for up to three dogs
Excellent battery life that lasts 50 to 70 hours on average
Comes with a one-year warranty
If you're looking for a versatile dog training collar with a good range and a host of options for correcting your dog's behavior, then the SportDOG FieldTrainer 425X is a fantastic choice.
It offers 21 static stimulation levels, and although it is quite expensive compared to many of the collars on this list, it is durable and waterproof, which means that it will provide years of usage.
Suppose you're a proud owner of multiple dogs. In that case, you'll appreciate the collar's tone, static, and vibration options. Each remote can also handle up to three dogs simultaneously.
The SportDOG Remote Trainer is waterproof up to 25 feet and has a 1,500-foot range. However, if you have a smaller dog, this may not be the ideal option, as it can only be used on dogs that weigh 8 pounds or more.
4. Educator E-collar Remote Dog Training Collar (Best Dog Training Collar for Daytime and Nighttime Use)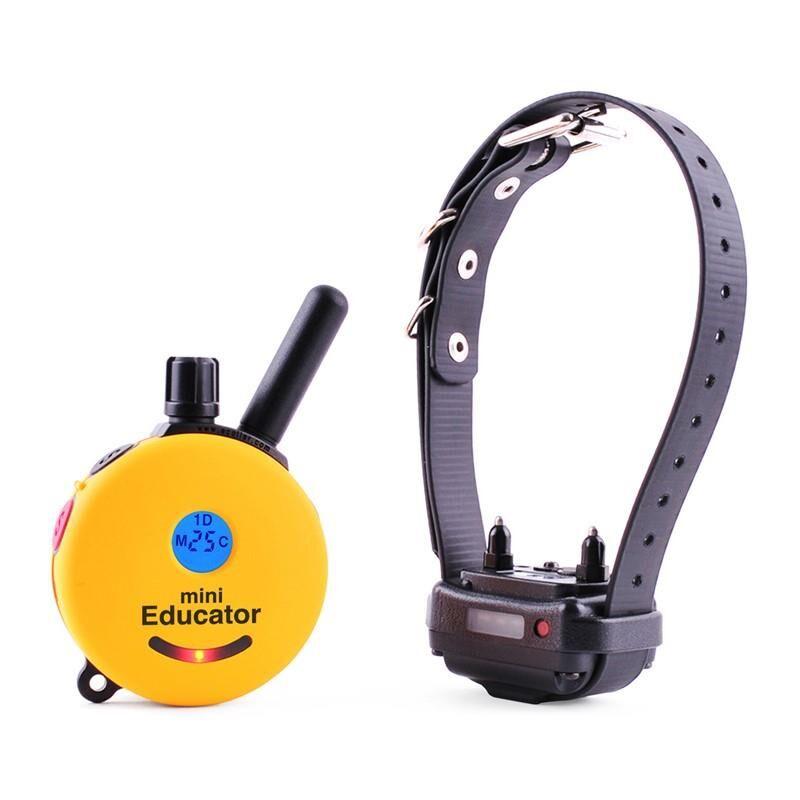 Quick Look:
Two types of stimulation and 100 levels of intensity
Includes a lock feature to prevent accidents
With a handy LED light, you can use this remote training collar system at night
It is lightweight and waterproof
Half mile range
If you are not a fan of placing shock collars around your dog's neck, then you'll be happy to know that you can correct your dog's behavior with a less frightening method. Using the Educator E-collar, you'll have access to 100 levels of intensity and two types of stimulation (tone and vibration) to train your dog.
Unlike other E-collars, this dog training collar offers an excellent range. Moreover, rather than being "sharp," the stimulus is "blunt," which helps your dog feel less stressed. The dog training collar is 30 inches in length, so you can trim it to fit perfectly around your dog's neck. Moreover, the system's waterproof receiver has many points of contact for canines of all sizes.
Although this fully functional training collar has a ton of options and training methods, we found that programming the device was complex. It also had poor battery life. However, due to its vast range, this is an excellent choice, especially if your dog enjoys exploring new places.
5. Herm Sprenger Prong Dog Training Collar (Best Pinch Dog Correction Collar)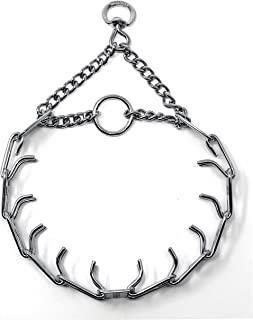 Quick Look:
These dog-training collars are safe and effective
Great for teaching your dog when it is time to heel
Perfect for large dogs and pullers
Affordable option
Easy to use
If you are looking for dog training collars that are easy to use, inexpensive, and effective, the Herm Sprenger Prong Dog Training Collar is a good choice. Unlike other pinch/prong-type collars, this product has been designed to be safe.
Remember that, unlike the smart collar options, this one doesn't have many bells and whistles, such as a GPS tracker and activity tracker. Nevertheless, it can be adjusted to fit around your canine friend's neck and encourage them to heel.
It is also easy to clean, and you can purchase additional links if you have a large dog.
6. JuWow Dog Training Collar (Best Choke Dog Correction Collar)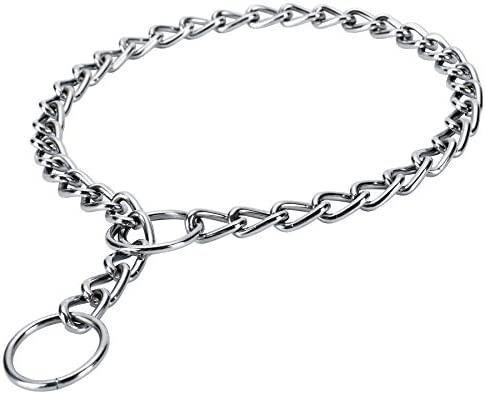 Quick Look:
Waterproof and rust-resistant
Adjustable and suitable for medium to large dogs
Smooth chain to prevent discomfort and injury
Effective and durable
Training your dog not to chase everything it encounters while outdoors can be a real challenge. Dogs are easily distracted, so teaching them when to heel and how to follow you is essential.
If you are looking for an effective choke training collar for your dog, there's no better choice than the JuWow Chain Dog Training Collar. This affordable, easy-to-use collar and lead can be adjusted to fit any medium to large breed dog.
One of the things we really liked about this product is that it was designed to be safe. The metal collar has been smoothed to ensure your dog's skin is never hurt or irritated. Remember, however, that you will need a trainer to enjoy the full benefits of this option.
7. Guardian Gear Martingale Dog Collar (Best Martingale Dog Control Collar)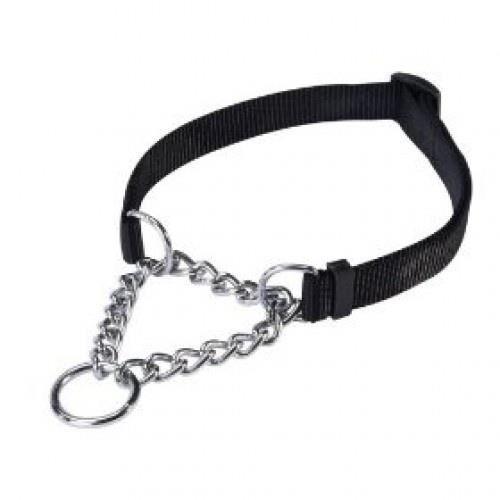 Quick Look:
Available in a range of colors and can be adjusted to fit snugly
Great option for puppies learning to walk on a lead
You can get it in a range of sizes
Inexpensive and very easy to use
Martingale dog training collars are designed to be user-friendly and ensure that your dog is safe at your side at all times, thanks to their design. This adjustable martingale collar from Guardian Gear can be purchased in various sizes and colors and is very affordable.
Simply put it around your dog or puppy's neck and attach your lead, and you're ready for a walk! It has also been made using soft material, unlike other martingale dog training collars, to ensure that your dog isn't hurt.
8. Trulrox No Shock Bark Collar (Best Anti-Bark Control Collar)
Quick Look:
Affordable and effective
Use this dog training collar as a shock collar or not
The collar is waterproof and rechargeable
Available in two colors
The Trulrox Bark Collar Bark Control Dog Training Collar is not only reasonably priced but also incredibly successful at changing a dog's undesirable barking tendencies.
With its five degrees of sensitivity adjustments and two corrective modes, you can use shock, beep, or vibration to silence your dog's constant barking without endangering them. This is particularly useful if you're not a fan of using a shock collar but need to stop barking effectively.
Additionally, it won't engage unless the bark is between 80 and 90 decibels and 1000 and 2000 kilohertz, making it safe because no inadvertent static shocks will result from your four-legged buddy shaking their head or the neighboring dog barking. We also appreciate that if activated seven times, it will momentarily stop functioning for two minutes.
9. Petsafe Easy Walk Harness (Best Gentle Leader & Easy Walk Collar)
Quick Look:
Suitable for dogs of all sizes
Developed by a veterinary behaviorist
Strap it on quickly and easily
Breathable, safe, and effective
Are you looking for a good easy walk harness? Your search ends here. Dogs that prefer to pull away from their humans at the front end up being pulled sideways since the lead is linked to the front of the easy walk harness. If they do it often enough, the dog soon realizes that tugging at the leash causes discomfort and stops this behavior.
Unlike other training collars that are designed primarily for large dogs, this harness is available for canines of all sizes. It has also been created by a veterinary behaviorist and is just as effective as it is easy to use.
10. eXuby Shock Collar (Best for Small Dogs)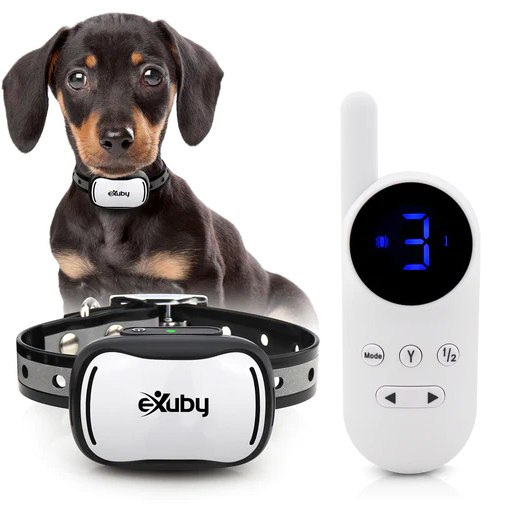 Quick Look:
Use shock, vibration, or sound to deter your dog
Includes a training clicker
Option to use shock if your dog doesn't want to listen
High-quality, durable product
Don't like the idea of having to shock your dog? We don't blame you! The great thing about this training collar is that you can try the tone or vibration commands first, and if that fails, use the shock mode. Moreover, the intensity of the shock and vibrating modes can be adjusted from 0 to 100, so you can use a safe level to get the desired effect.
You also get a clicker with your shock collar that you can use for quicker results. Use the clicker first, then the shock collar, so your canine companion learns that there is a jolt after the clicks and that he should stop barking to prevent the shock.
11. PetSafe Big Dog Remote Training Collar (Best for Big Dogs)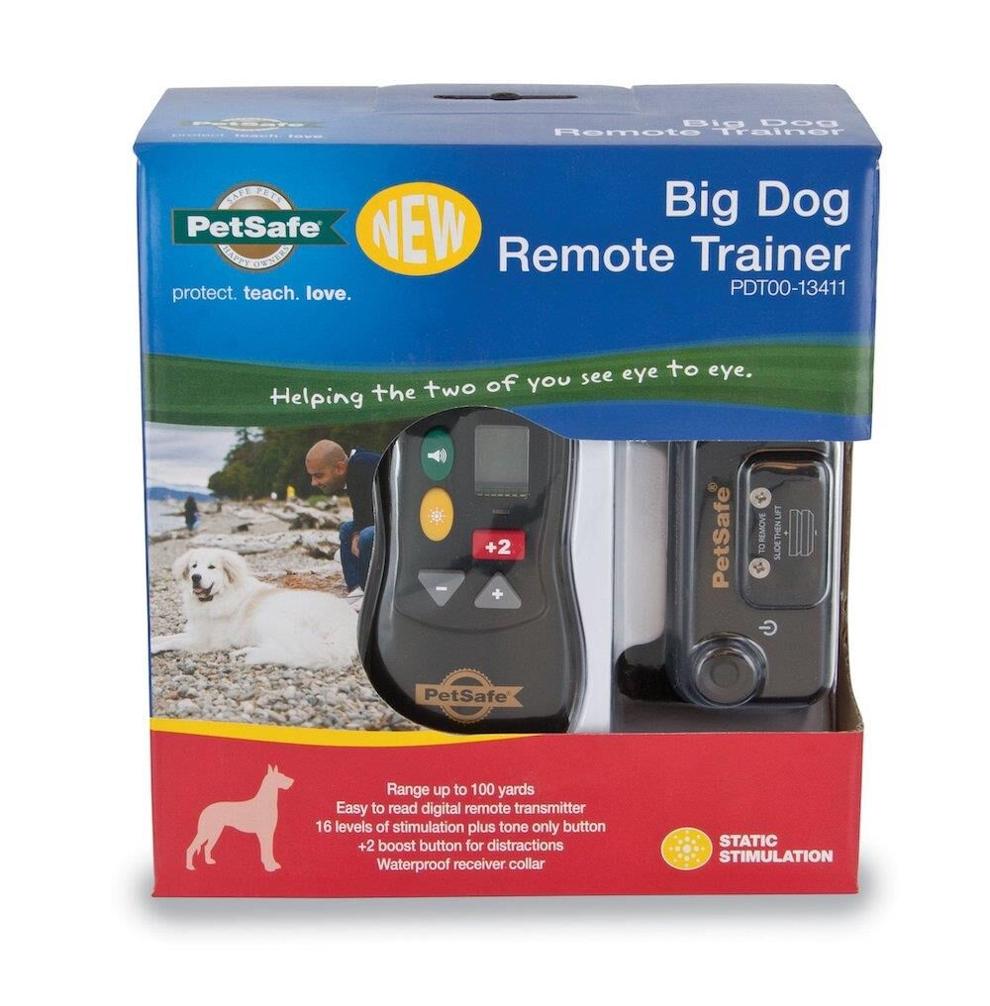 Quick Look:
It uses tone and static correction
100-yard range
Waterproof
Handy boost button to get your dog to stop
Battery-operated (included with purchase)
This smart system works with remote control and allows you to control your canine's behavior using static stimulation and noise. It has 16 stimulation levels to help you train your furry friend and is a great training collar for larger dogs.
If you have a small dog, don't despair! These training collars are available in smaller sizes. Plus, with a good range of 100 yards, this system is suitable for indoor or outdoor applications.
12. Garmin Alpha 100 (Best Dog Training Collar with GPS)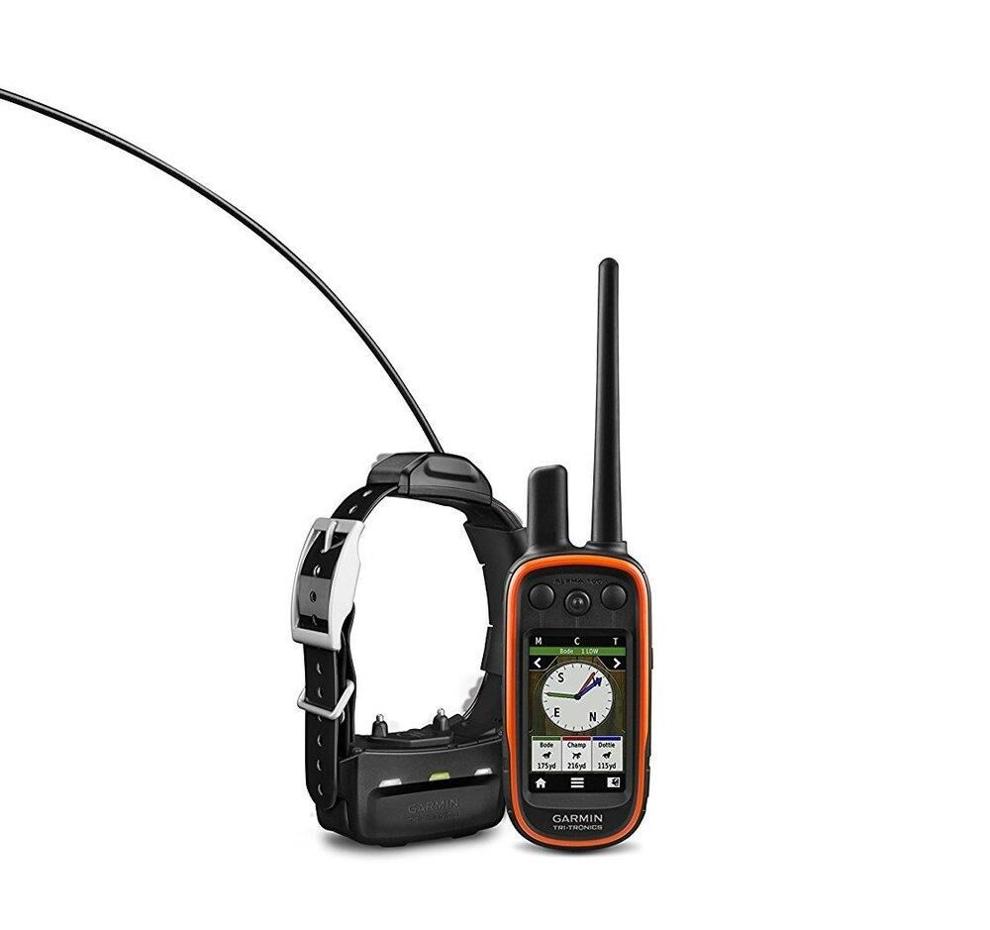 Quick Look:
Excellent GPS tracking
Expensive option
Touchscreen design
It can be used to set up boundaries
20-to-40-hour battery life
Losing your dog can be a traumatic experience. After all, your canine friend becomes a member of the family! The good news is that you can keep track of your dog's whereabouts with the leader in GPS systems.
With impressive battery life and a touchscreen design, this is one of the best training collars for locating your lost dog. It also offers vibration and tone stimulation to help you with behavioral training. However, the only drawback is that it is one of the most expensive options on this list.
Buyer's Guide: How to Choose a Training Collar That's Right for Your Dog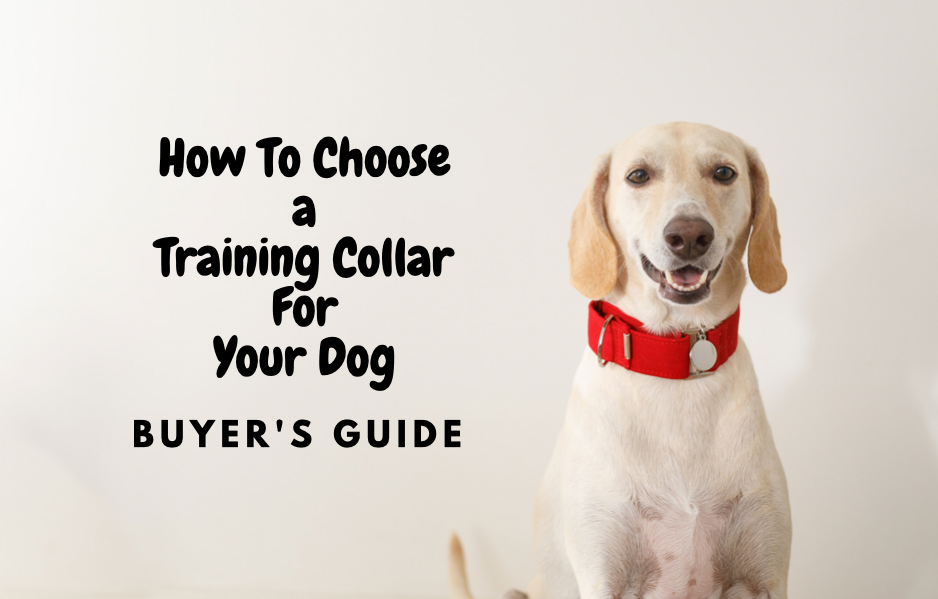 Dog owners have a responsibility always to keep their dogs safe. Whether you have a pack of hunting dogs or a small furry friend, you must ensure that he or she is always protected from danger.
This means finding the training collar that will work best for you and your dog. However, with so many options to choose from and new products being released so often, how do you know which dog training collars to purchase?
In the section below, we'll look at some essential factors to consider when making your choice.
Another popular training tool is a portable dog fence. We have a complete guide on the best in the market for you to check out.
Understand the Types of Training Collars
When choosing dog training collars for your furry friends, you must consider the different types and choose one that will be best for you and your dog. Here is an overview of each type:
Pinch Dog Training Collars
Whenever a dog tugs at the lead, the prongs of the dog training collar close around the neck, cause discomfort and pain, which lowers the likelihood that the dog will repeat the behavior.
Choke Collars
This collar, which is composed of metal links, is intended to restrain your dog by squeezing tightly around its neck.
Martingale Training Collars
A dual-looped dog collar with training purposes and breed-specific fit is known as a martingale collar. Sighthounds and other breeds of dogs with a neck as broad or wider than their heads, such as greyhounds, whippets, and others, respond strongly to the characteristics of a martingale.
Shock Collars
These devices send your dog an electric signal by using electric current flowing via metal points of contact on the collar. Shock collar training was popular in the 1960s but has been shunned by many dog owners and trainers.
Anti-bark Training Collars
If you're having trouble controlling excessive barking, an anti-bark collar may be what you're looking for. These collars are activated every time your dog barks and may emit a spray to tell your dog that this is negative behavior.
Virtual Fence Systems
These digital systems help you establish safe zones for your pet. When your dog approaches the perimeter of the invisible fence, the device will emit feedback to tell the animal to stop.
Remote or Electronic Dog Training Collars
The portable remote transmitter emits a signal when a button is pressed, making your dog's receiving collar vibrate to get your dog's attention. This is an excellent option for deaf dogs.
Gentle Leader Head Collar
If you're having trouble walking your dog, a gentle leader may be just what you need. It applies gentle pressure at the back of the neck to encourage your dog to pull back and not forward.
Easy Walk Harness
This training collar discourages dogs from pulling on the leash when going for a walk. The harness steers your dog to the side when he or she pulls on the leash to direct their attention to you.
Most dog owners steer clear of pinch, choke, and shock collars because they are often seen as inhumane. However, we have included some safe and practical options in the list above if you prefer one of these collars.
Smart dog training collars allow dog owners to effectively train their canine companions without causing them pain or discomfort is preferred by many.
Budget
Ultimately, the type of collar you choose will depend on your willingness to spend. While a smart virtual fence system is one of the most effective and safe ways to train your dog, it can be costly. Martingale or gentle leader dog training collars may be a better buy if you're on a tight budget.
How Many Dogs You Have
The truth is that costs mount when you have more than one dog. While some smart systems allow you to train up to nine dogs simultaneously, other remote training collars must be purchased separately.
If you have multiple pets, you should look for dog training collars that can be used for more than one dog to reduce costs and streamline your training sessions.
Battery Life
Suppose you choose electronic dog training collars. In that case, it is important to take note of the battery life. Suppose you are the kind of person that enjoys taking your canine companion on long walks. In that case, your training collar shouldn't run out of battery life.
Why Would You Need a Dog Training Collar?
The truth is that dogs are often like toddlers. They can get into trouble easily and often wander off to explore the world without realizing the danger they can find themselves in.
A dog collar is a great way to establish boundaries and prevent unwanted behavior. Most smart collars go around a dog's neck and use vibration, static, or sound stimulation to deter your furry friend. He or she will then learn to associate this feedback with negative dog behavior.
However, it is essential to remember that the best dog training collars are often hard to use, and if you want to make the most of your newly purchased device, you'll need the help of a trainer.
The Best Places to Find a Trainer
There are several places to find good recommendations for a dog trainer. You could talk to a fellow dog owner at the park or go online to look up trainers.
However, with so many costly options, knowing which one to choose can be tricky. The good news is that you won't have to pay exorbitant amounts to find the help you need.
K9 Training Institute's Free Workshop for Dog Owners
K9 Training Institute, a leading dog training organization committed to improving the relationship between dogs and their owners, has a free online workshop that can teach you how to get your dog's attention and teach them how to be obedient.
Learn the Secrets of the Service Dog Industry
In this free workshop, you'll learn the secrets of the service dog industry and use your collar, whether you prefer to use anti-bark, Martingale, virtual fences, or shock collars. You can check out our Full K9TI review here.
Conclusion
Dog training collars can be helpful tools to help you stop unwanted barking, help your dog understand when it needs to heel and prevent wandering. Several smart systems also allow you to track your dog's location and keep track of their activities to help keep them healthy.
Our number one recommendation is the Halo Dog Collar by Cesar Millan. It offers everything you need in a training system and is easy to use and set up. We also recommend giving the SpotOn GPS fence and SportDOG Field Trainer as runner-ups because they also provide various features.
Don't forget to take advantage of K9 Institute's free workshop to learn how to train your dog effectively!