A race result last weekend at Oaklawn was a reminder that D. Wayne Lukas has been producing Kodak moments for a long, long, long time. The latest historical snapshot represented three generations, five-plus decades and again linked two of the most prominent names in American horse racing history.
Jockey Keith James Asmussen's first career Oaklawn Park victory came for a Hall of Fame trainer, but it wasn't his father, Steve Asmussen. It was for Lukas, 87, who is a member of the National Museum of Racing and Hall of Fame and the American Quarter Horse Hall of Fame. He is also a longtime friend of the Asmussen family.
In his first career mount for Lukas, Keith James Asmussen, 24, guided Papa Rocket  ($12.40) to a neck victory in the third race Jan. 14, a sprint for $30,000 claimers. It was Asmussen's eighth career victory. The first seven were for Steve Asmussen, who won 63 races as a jockey in the early 1980s before turning to training.
Asmussen, 57, is now North America's all-time winningest trainer. He never rode for Lukas, but his father, also named Keith, did. Lukas (trainer) and Keith Asmussen (jockey) traveled the country during the 1960s when both were in quarter horse racing and competing at tracks like Park Jefferson in South Dakota, Centennial in Colorado, and Columbus Race Course in Texas.
Saturday's script, Keith James Asmussen said Jan. 15, had the picture-perfect ending.
"It doesn't get more sentimental than that," Asmussen said. "It's funny, after the race we passed around a bunch of pictures of papa when he rode."
One that eventually surfaced was a black and white win photo from the fifth race March 15, 1969, at Columbus. There was a dark-haired Lukas—sans his now familiar cowboy hat—holding Ever Magic, with Keith Asmussen aboard, in the winner's circle following the 350-yard race. Almost 54 years later, Lukas found himself in another win picture, this one in color, with Keith Asmussen's grandson. Clearly, some things never change.
What an incredible experience to be able to duplicate and share with my grandfather. Thank you so much Mr Lukas (The Coach)! pic.twitter.com/iyed3DNFbf

— Keith Asmussen (@keithasm7) January 15, 2023
"That's kind of unusual," Keith Asmussen, 81, said Jan. 18. "I think I won a few races for Wayne, rode a lot of horses for him like in '69, I think it was. Then Cash, my oldest son, he rode for him when Wayne switched from quarter horses to Thoroughbreds. Now, my grandson jumps up and wins a race for Wayne. I talked to Wayne right after that race. We went over some old things. Lot of water's gone under the bridge since he and I were together."
Lukas said Sunday morning that he was impressed with how deftly Keith James Asmussen handled Papa Rocket, particularly down the backstretch of the six-furlong race. Asmussen rode the 4-year-old Into Mischief   gelding for prominent Arkansas businessman Frank Fletcher.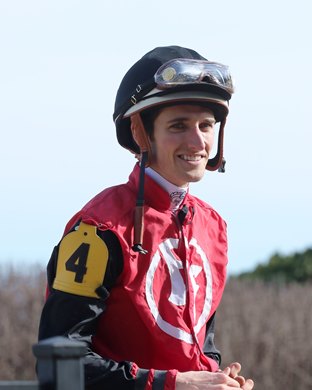 Keith James Asmussen
"For as tall as he is, he gets down tight and he obviously has got horsemanship," Lukas said of the 5'10" Asmussen. "I mean, he can't help it. He made some decisions yesterday that were pretty solid. He got in there real tight about the half-mile pole and he could have panicked and come out of there. It was really tight. He stayed in there and then he angled out there at the quarter pole and said, 'I've got enough horse to get there.' "
Asmussen rode his first race June 15, 2020, at Lone Star Park and collected his first career victory there July 26, 2020. He resumed riding last fall after receiving a master's degree in professional accounting earlier in 2022 from the University of Texas' McCombs School of Business.
Asmussen had been 0-for-20 at the 2022-2023 Oaklawn meeting before Papa Rocket, but the jockey had four runner-up finishes. One was a nose loss aboard Mean Jakey  in a $30,000 claiming sprint for his father Jan. 7.
"Try not to be too volatile, meek or overconfident," Keith James Asmussen said. "I definitely try to approach every race the same, with a positive attitude, because I do believe the horses pick up on it. Trying not to be over the top. Obviously, I was extremely excited about winning one for Wayne."
Lukas said he met Asmussen's grandfather during the early 1960s, some 15 years before they took different paths to immense success in the Thoroughbred industry. Lukas recounted what would be a life-changing turn of events in the late 1960s when he, Asmussen, and the jockey's wife, trainer Marilyn "Sis" Asmussen, were in Claremore, Okla., and decided to make a run for the border because of bone-chilling cold.
"Keith would be riding, Sis was working in the barn, Steve wasn't even around," Lukas said. "We were up at Park Jefferson together and we decided that we would combine our stables and move to Oklahoma, where the hotbed of quarter horse racing was. We were sitting around the Will Rogers Hotel—they've got a big potbelly stove in the middle of the lobby there—and waiting for the track to thaw out every day. I said to Keith, 'We sit here every day until 2, 3 o'clock to get a horse out.' Keith said, 'They opened a new training center in Laredo, Texas.' So, I said, 'Really?' He said, 'Let's go there.' We had no reason to stay in Oklahoma, so we loaded all our stuff up and down to Laredo we go."
Lukas, however, said he didn't care for life in the warmer climate and left Laredo, located in the shadow of Mexico, maybe two years later.
"I don't speak Spanish yet to this day and I don't like Mexican food," Lukas said. "I was out of my element, completely. Keith and Sis Asmussen loved it. So, they stayed and I took off."
Lukas began training Thoroughbreds full-time in the late 1970s, roughly the same time the Asmussens began developing their famed El Primero Training Center, the Laredo facility where many of Steve Asmussen's best horses have been broken.
After switching to Thoroughbreds, Lukas occasionally rode Steve Asmussen's older brother, Cash, who received an Eclipse Award as the country's outstanding apprentice jockey of 1979 before becoming a Champion rider in France. Cash Asmussen, Lukas said, was the best man in his son Jeff's wedding.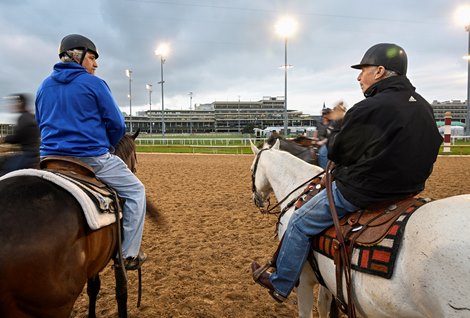 Trainers Steve Asmussen and D. Wayne Lukas chat at Churchill Downs
"I've always been close to that family," Lukas said. "Jeff and Cash were running through the hills of Ruidoso as 9- and 10-year-olds betting. They would sneak down to the races and they were both really good handicappers."
Lukas and the long-retired Cash Asmussen were 0-for-14 together (the last start was 1987), but the trainer has come full circle by teaming for victories with Keith Asmussen and now his grandson. Just another Kodak moment for racing's living legend.
"I've sat down and talked to (Keith James Asmussen) a couple of times because he's a refreshing young man," Lukas said. "He really has a refreshing personality. I visited with him a little bit and we talked about the sales and stuff and conformation and I really enjoy him. Then I look up and see he's trying to ride. I told Keith I was going to put him on one, but I'm going to put him on one that's live. I don't want him to just ride a horse for me. I just gave him another call or two. I'm going to put him on some more. He's got some talent."
Asmussen is scheduled to ride one horse for Lukas this weekend at Oaklawn—No Guilt  in Jan. 22's third race, a $90,000 maiden special weight event. Asmussen, who is represented by agent Cody Caudill, has eight victories from 99 lifetime mounts and purse earnings of $431,100, according to Equibase.
Asmussen's biggest career victory to date was aboard Super Stock  in the $113,647 Texas Thoroughbred Futurity Stakes for 2-year-old sprinters in August 2020 at Lone Star Park. Super Stock won the $1 million Arkansas Derby (G1) in 2021 at Oaklawn for Steve Asmussen and co-owner Keith Asmussen.
Papa Rocket represented Lukas' 4,890th career North American Thoroughbred victory—ninth all-time— according to Equibase. Lukas was Oaklawn's leading trainer in 1987 and 2011. Steve Asmussen entered Wednesday with 9,974 career victories in North America. Asmussen has 824 career victories at Oaklawn, where he has led the standings a record 12 times. Asmussen, the second-winningest trainer in Oaklawn history, has four victories at the 2022-2023 meeting.
A four-time Eclipse Award winner as the country's outstanding trainer, Lukas was inducted into the National Museum of Racing and Hall of Fame in 1999. Asmussen, a two-time Eclipse Award winner, was inducted in 2016.
This press release has been edited for content and style by BloodHorse Staff.