Lincoln dog trainer charged with animal cruelty, has left string of 'bamboozled' clients, records show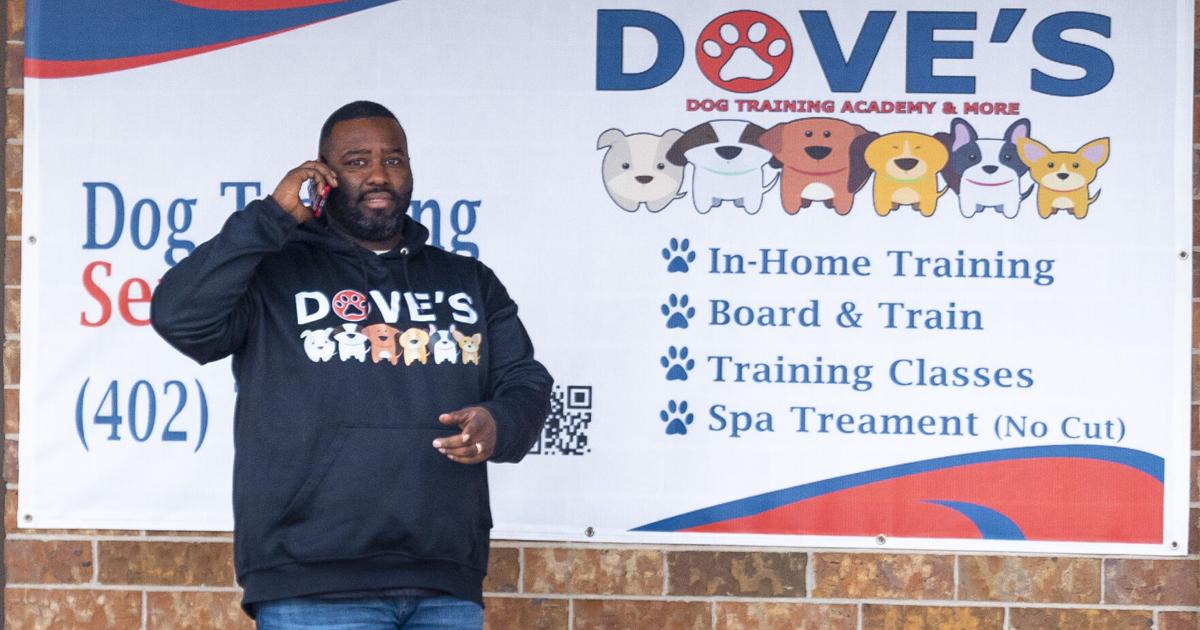 A Lincoln man who has presented himself as a professional dog trainer has been sued repeatedly over his business practices and was criminally charged in December with two misdemeanors over the alleged mistreatment of animals at his facility, according to court filings.
City prosecutors charged Willie Dove Sr. with animal cruelty and animal neglect Dec. 5 — more than a month after a Lincoln woman reported the 40-year-old to the city's Animal Control Department and the Nebraska Department of Agriculture following an injury her dog allegedly suffered at Dove's facility, said Steve Beal, the city's Animal Control director.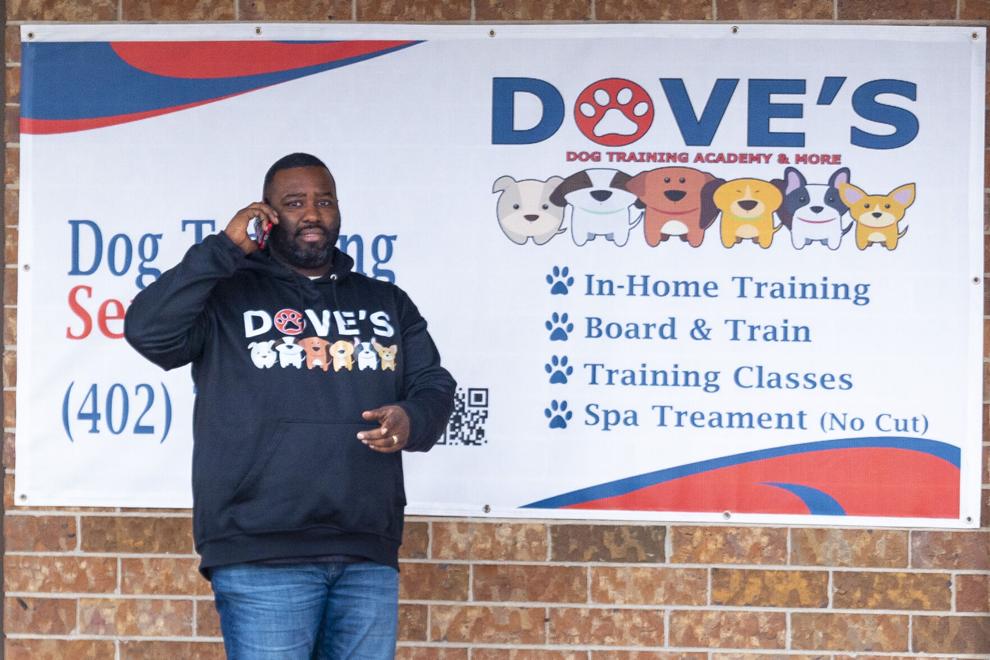 The woman had boarded her 2-year-old corgi-Jack Russell mix at the east Lincoln business, Dove's Dog Academy & More, and took the dog to the vet following its boarding stay because of eye problems the dog was suffering, according to the complaint filed with the ag department.
A veterinarian determined the dog had been strangled, according to the complaint, obtained through a public records request.
The subsequent citation marked the first time Dove's dealings as a purported dog trainer led to criminal charges in Nebraska, according to state court records — but former customers have been raising alarm over his conduct with animals and business practices for more than two years.
A woman sued Dove in small claims court in December 2020 for $910 relating to her dealings with his previous business, Dove Dog Academy, which Dove operated in Waverly, according to court records.
It's unclear exactly why Dove owed the woman, Melinda Howell, more than $900. Attempts to contact Howell were unsuccessful.
Through his attorney, Sarah Newell, Dove declined to be interviewed for this story, instead offering a written statement.
"Because litigation is pending, Mr. Dove unfortunately cannot comment in detail about these allegations, but he very much cares about his clients and their satisfaction," Newell said.
"He continues to work diligently to provide quality service, he denies these charges, and we are working with veterinary professionals to provide broader insight into these allegations."
Dove didn't appear at the small claims hearing Jan. 28, 2021, leading Judge Laurie Yardley to award a default judgment to Howell for the $910 she sought plus $56 in additional costs, according to court records.

Decatur man sentenced to federal prison for sexual abuse
Dove didn't pay the sum, according to the filings. The court ordered the amount garnished from his paycheck at an Omaha funeral home.
That January 2021 ruling would not mark the last time Yardley sided against Dove in a small claims case. The judge did so again in April 2022, after Dove sued a former client, Sheri Dempsey, for $1,338.
In the filing, Dove accused Dempsey of pulling her dog from his training program "knowing she still owed a balance … without any warning or notification" to Dove.
Dempsey describes the ordeal differently.
She had hired Dove in February to train her husky, Huli, in a two-week program that Dove indicated would feature near-constant one-on-one training involving Dove, who claimed to be a certified dog trainer, Dempsey told the Journal Star.
But red flags began to pop up for Dempsey less than a week into the program, she recalled.
Dove didn't interact with Huli when he first picked the dog up from Dempsey's house, she said. He didn't ask for vet info, food or a husky-grade harness before asking Dempsey to walk Huli to his car herself, she said.
He called Dempsey an hour after he left her house and said he had lost Huli when he opened his car door in Omaha, said Dempsey, who drove there to help search for the dog, ultimately turning Huli back over to Dove when they found him.
The next day, Dove called to say he was turning Huli's training over to a business partner, who Dempsey later learned was only paid to walk the dog for 20 minutes a few times per day, she said.
"I'm like, 'What the hell is going on here?'" Dempsey recalled. "I'm starting to realize I've been bamboozled."
Dempsey took Huli back from Dove's then facility at an office space at 70th and O streets — where Dove was never licensed to board dogs, according to ag department records — and took him home, terrified, covered in feces and, still, untrained, Dempsey said.
"My dog has never been the same," said Dempsey, who also took the matter to police on suspicion of fraud in a complaint that went nowhere.
"My dog is scared to death of everybody, other than my daughter and I."
In the counter claim she filed against Dove, Dempsey accused the businessman of falsely presenting himself "as a certified dog trainer and breeder, but instead left my dog in a kennel for over 15 hours (overnight)."
At an April 20 hearing in the small claims case, Yardley found Dove had misrepresented the services he would provide and ordered him to pay Dempsey $1,338 — the amount she had paid upfront for the training — plus interest.
Dempsey said Dove hasn't paid.
Dove's Dog Academy was sued again in small claims court last week by a third former client, Brandi Dunning, who is seeking more than $2,500 from Dove after her Staffordshire terrier, Izzy, was diagnosed with contagious pinkeye and an ear infection after a week at Dove's facility, Dunning alleged in the filing.
Dunning had paid Dove $2,557 for a three-week boarding and training program that began Dec. 21, but after a week, she visited the academy to check on Izzy following a series of puzzling phone calls and text exchanges with Dove and his staff.

Hilgers moves to Nebraska attorney general job with water rights, Biden policy challenge ahead
"Upon entering, we were met with an overwhelming smell of dog urine," she said in the filing. "Once we were finally allowed to see our dog, she had on her collar, a shock collar and a gentle leader. 
"She looked very scared and sick."
Dunning took Izzy to a vet and ultimately never returned her to Dove's facility, she said.
She also filed a complaint against Dove's operation with the Better Business Bureau, where at least five customers have filed complaints against Dove in the past three years, according to the organization's website.
In response to one complaint in January 2022, Dove threatened legal action against the complaining party for "slander."
Dove appears to have taken steps to conceal prior complaints against his businesses and conduct from future prospective customers. He has made slight changes to his business's name multiple times in the past three years, according to licensing records and court filings.
Previous names include Dove Dog Academy, Dove's Heavenly Dog Academy and Dove's Dog Academy.
Dove's business has also recorded a run-in with the state Department of Labor, which issued a $500 citation against him last year over a wage complaint, according to department records.
And, despite the repeated claims filed against him and last month's criminal charges, Dove has so far continued operations, avoiding any licensing troubles with the Department of Agriculture or the city.
Department of Agriculture Inspector Rick Herchenbach twice checked in on Dove's training location in Waverly in 2020 and 2021 but never found any violations, according to inspection reports.
But when Dove opened shop at 237 S. 70th St. sometime in 2021, his facility was never inspected nor licensed, according to the list of inspections completed in Lincoln that year.
Dove moved to his current location — at 6800 P St. — in June 2022, but didn't seek a license to board animals until late September, when Herchenbach surveyed his new facility and ordered Dove to fix a hole in the wall and develop a written emergency vet care plan, according to his report.
By the time Herchenbach checked back in on Dove in early October, neither issue had been remedied, the inspector wrote in his report. Still, Dove — who had six dogs housed at his facility during that visit — was allowed to keep operating.
Herchenbach gave the academy an "acceptable" rating on his third visit to the P Street facility in late October.
But the inspector had to return to the business less than three weeks later following the reported injury to a dog in late October.
"Emergency vet plan is needed," he wrote in November, highlighting the same issue noted in the September report that Dove had failed to comply.

Ex-Lincoln Police officer sentenced to probation for misdemeanor assault
The vet plan isn't mentioned — as either compliant or non-compliant — in Herchenbach's Oct. 24 report, the only visit that yielded an "acceptable" rating, according to the records.
Reached by phone, Herchenbach referred questions to the ag department's public information office. Christin Kamm, the department's communications director, said investigators couldn't comment on the status of Dove's license because of an ongoing investigation.
Dove's business appeared to have been closed, at least temporarily, by Thursday afternoon. No one answered or returned a phone call at the academy Friday and Dove posted a message on the business's Facebook account Thursday night thanking customers who had supported him.
"I know we can't meet everyone's expectations and everyone's needs, but with that being said, for those who are 100% committed and put in the time and effort, man, it's been a blessing and an honor and privilege to work with you guys," he said, in part.
Dove did not indicate in the video whether the business had closed.
In response to specific questions over whether inspectors had shut the facility down, Kamm said she could not comment, again citing the ongoing investigation.
Beal, the head of Animal Control, said that whether the business remained in operation was entirely under the purview of the Department of Agriculture. The only license the city might issue a dog boarding operation is a grooming permit, Beal said.
"If he truly is doing pet grooming, then he has to have a permit for that, and he doesn't have one right now," Beal said. "So we're still involved in that aspect of this whole thing. Because he cannot operate a pet grooming business without having that permit from us."
An automated phone menu that plays for Dove's Dog Academy & More listed four services as of Friday: professional dog training, certified dog walking, certified pet-sitting and grooming.
"I really thought this would end up being fair," Marcia Selinger said after her son's death in a crash and the court case that followed.
Former Lincoln Police officers say both the department and city leaders enabled wrongdoing for years.
A Lincoln couple grapples with their dog's death — at the hands of a Lincoln Police officer — after the city denied their tort claim.
Investigators initially ruled the March fire at Mary O'Hare's rental property an accident. She suspects they're wrong.
Perilous driving on O Street came under a microscope after a deadly May crash. Area residents say the issues aren't isolated to Memorial Day.