Throughout 2022, Beverly Park  faced the starter no less than 30 times. And in 15 of those races, the big bay, a throwback to the iron horses of racing's heyday, found the winner's circle, making him the first horse since the invincible Rapid Redux (19 straight wins in 2011) to capture more than 13 races in a season.
"His front legs are just as cold and tight as any young horse," trainer Norman "Lynn" Cash said.
The trainer was berated with criticism last winter when the 6-year-old son of Munnings   competed in eight races in a two-month span.
WATCH: Beverly Park Exceeds Expectations
While Cash, 58, admits he's still a fledgling student of the industry, having taken his trainer's license out only two years ago after decades of running the family roofing business, he knows his horse better than most. A steady traveling partner of Beverly Park's during their 16 months together, frequently driving the van himself to a host of different racetracks around the country, just him and "Beverly."
Sign up for BloodHorse Daily
"I've breezed him maybe twice in the last year and a half since I've got him," Cash said. "Sometimes we'll jog him into the next race and sometimes we'll even walk him in. But he's a workhorse. Whether it's racing or going to the track in the morning, he wants to go out there and do it. When I'm watching training sometimes from across the track, I can always tell it's him from a distance walking out because of this happy bounce he has with his head going to and from the track. He walks with such a spring in his step."
When the gloom of winter transformed into spring, Beverly Park ran on a more steady pattern of 19 days of rest between races, which is what Cash believes is best for his horse.
"I also have more of a feel for the business in general," Cash said. "I know I've certainly done a lot of 'have nots.' It's a roller coaster at times in this business. One day you win and you're on top and the next you're a beaten favorite, beat by six lengths, and you have to walk out there after the race. If you can't take the lows, you can't take the highs."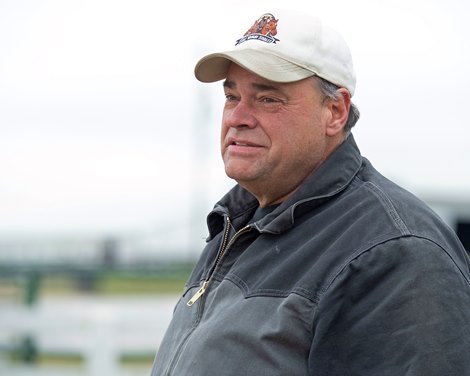 Trainer Norman "Lynn" Cash
Cash and his wife, Lola, dipped their toe in the industry several years prior after watching I'll Have Another  sweep to a Kentucky Derby (G1) victory in 2012.
"I told my wife, 'That horse (I'll Have Another) was bought for just $35,000. We should buy a racehorse, too—how fun would that be?' And so we did. And then off and on we'd have horses when we'd have discretionary money with the roofing business. But as I was owning horses, I just realized I loved the sport and I loved the animals. It just really came and grabbed me."
And in 2021, Cash passed the torch of his long-standing roofing business to his two sons and took a gamble on a dream.
The operation began with a few horses and gradually swelled to nearly 50 head by December 2022, all running in the name of Cash's Built Wright Stables. Cash currently oversees strings at both Laurel Park and out of The Thoroughbred Center in Lexington.
A day before Beverly Park trounced his foes in a Dec. 31 starter allowance at Fair Grounds Race Course & Slots, Cash had two horses racing at Aqueduct Racetrack, two in at Laurel Park, and one (Aunt Bee ), entered at Hollywood Gaming at Mahoning Valley Race Course. Aunt Bee, a $50,000 claim for Cash this past May at Belterra Park, eked out a neck score in the $75,000 Bobby Bricker Memorial Handicap.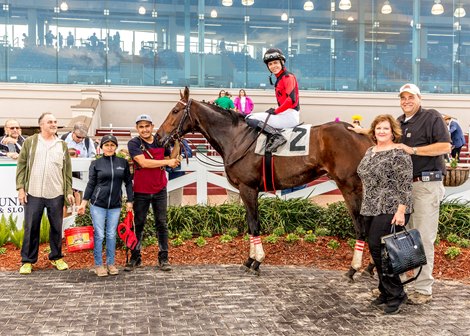 The connections of Beverly Park in the winner's circle after his 15th victory of the season in a starter allowance race at Fair Grounds Race Course
"We jumped in with a few (horses) and started having success," Cash said. "Even though it wasn't always smooth at first. Sometimes (Lola would) look at the checkbooks and say, 'Honey, what's going on?" And I'd say, 'The money's there, it just isn't all in cash, these are good claims we've made.' I just go back to the car lot theory. You gotta put cars on the lot if you want to sell cars. You have to have cars in the lot."
Although primarily a claiming barn, Cash has enjoyed remarkable success turning horses who had run for a tag into stakes winners. The trainer tasted graded-stakes glory for the first time with Double Crown , a gelding he snatched up for $40,000 in June at Churchill Downs. In a shocking 42-1 upset, Double Crown rolled by heavily favored Baby Yoda  to score a 1 3/4-length tally in the Kelso Handicap (G2) Oct. 29 at Aqueduct.
It has been Beverly Park, however, who has really thrust Cash's name into the limelight.
"This horse gets a lot of ink," Cash said. "Everywhere I go, people ask me about him.
"It really is 98% he's just a great animal and 2% me. I just happened to grab his coattail as he went by."
There wasn't much Cash didn't like when he spotted Beverly Park in for $12,500 at Belterra Aug. 5, 2021. By a perennial top sire in Munnings, Beverly Park's dam, the Langfuhr mare Madeira Park, was a grade 3 winner in Canada and an earner of more than $318,000. Madeira Park had already produced the stakes-placed gelding Hartel and hails from a family rich in black type, with graded-stakes winners Manny Wah  and Blended Citizen as well as millionaire Lookin At Lee   among her immediate family.
Beverly Park won in his third attempt after two tries against maiden special weight company, narrowly taking a $150,000 maiden claiming race at Keeneland in the fall of his 2-year-old year for PTK Stable. His form faltered after that effort, however, and he eventually was dropped in for $5,000 in July of his 4-year-old year following a nine-month layoff.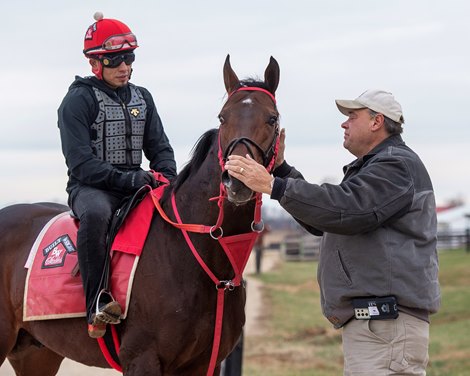 Lynn Cash gives Beverly Park a pat during morning training at The Thoroughbred Center
He obliterated the field by 15 1/2 lengths that day and began his run as the most formidable starter allowance horse in the country.
Starter allowances can run under a variety of conditions, but a common eligibility is for "horses who started for a claiming price of $5,000 in the last two years." This particular condition is part of what has made Beverly Park so dominant since joining Cash's barn.
"I didn't know the power of a starter (allowance) horse back then," Cash said. "I just figured, 'Wow, I could get three or four wins with this horse.' But this guy has paid for himself probably 40 times over. We're coming up on a half million in purse money that he's won for us."
An earner of $536,730 overall, Beverly Park bankrolled $295,628 in 2022 alone. Lifetime, he has 25 wins in 47 starts, with seven seconds and four thirds.
"Besides the fact he dominated for $5,000, he's a $220,000 Keeneland September yearling and a beautiful horse," Cash said. "I loaded the trailer and figured they were going to scratch him that day because he was in a $12,500 non-winners of 3, but I decided to do my due diligence and load the trailer anyway. An hour before the race they still didn't scratch him, and now I'm just hoping I can win the shake on this horse. But the guy who collected the claims slips at Belterra went by me and said to me, 'As soon as the gates open, he's yours. You're the only one in the box.' "
Beverly Park dashed home by 5 1/2 lengths that day and proceeded to win six races in a row for Cash, including a first-level allowance at Churchill.
The durable Beverly Park often competes in shorter, one-turn starter races staged at 5 1/2 to seven furlongs on the dirt. Although Cash calls Midway, Ky., home, he isn't afraid to load up the van and drive a thousand miles or more if it's the right race for his horse. Oftentimes, the races close to home won't go off when rival trainers see Beverly Park's name in the overnight.

Beverly Park draws away to win a starter allowance race in January at Laurel Park
In 2022, Beverly Park ran at Fair Grounds, Mahoning Valley, Hollywood Casino at Charles Town Races, Keeneland, Churchill Downs, Colonial Downs, Timonium, Delaware Park, Belterra Park, Monmouth Park, Turfway Park, Laurel Park, and Oaklawn Park—try saying that in one breath.
"I would rather hit the road and travel somewhere to find the right race than stay in the same spot and bang my head against the wall because we're in a race where we don't fit," Cash said. "I'm fortunate I get to have the freedom to run him where I want because I do own him."
Come July 2023, Beverly Park will lose his starter $5,000 condition, but Cash believes the future is limitless for the venerable warhorse. He didn't rule out the possibility of a foray against stakes competition as long as Beverly Park remained sound and willing to compete.
"This horse won't run in a claiming race. I couldn't stand that as he's such a part of me and a part of this barn," Cash said. "At some point after he is out of condition maybe next fall or winter I would love to try to go for a small stakes with him. I think he deserves his shot. If he could win a graded stakes, I think he could even stand at a farm somewhere, maybe in one of the smaller states. At the very least I have nine broodmares of my own and we'll have nine 'Beverlys' running around."
With the dawning of the new year, July is still six months away.
"I told my wife, 'You know, I think we're going to win 10 or 12 races with this guy next year, too.' So we'll see," Cash said. "But that would be a feat."