WAHOO — John Cook may one day give up coaching the Husker volleyball team to pursue his new passion — rodeo.
A packed house of more than 600 people learned that Cook has become, in his words, a "professional roper" during last month's Saunders County Livestock Association banquet at the Starlite Event Center.
Cook was the guest speaker at the annual event, which drew the largest crowd in several years. He showed off pictures of his horses, Bud and Reba, his new gear (including custom-made chinks sporting a Husker "N" and the adidas logo) and talked about the skills he still needs to learn to drive a horse trailer through Lincoln traffic.
"(This is) how I got a dang horse, and I got a second horse, and I got a pickup truck, and I just got a horse trailer," he told the crowd.
Cook wasn't looking to buy a horse. But one of his former players and longtime staff members, Husker volleyball Director of Operations Lindsay Peterson, had purchased a horse last year that turned out to be more than her young boys could handle. She offered it to Cook.
Cook and his wife, Wendy, had built a place in Wyoming, where their kids now live. They had plenty of land for horses.
"I said sure," Cook said. "I got Bud. This has changed my world."
Applying the same passion as he does to Husker volleyball, Cook dove head-first into the world of horses. He decided to learn how to rope after buying Reba, a horse trained in roping.
Last May, he was introduced to the coach of the University of Nebraska-Lincoln's rodeo program, Marshal Peterson, who grew up in Saunders County on a horse farm between Yutan and Ashland.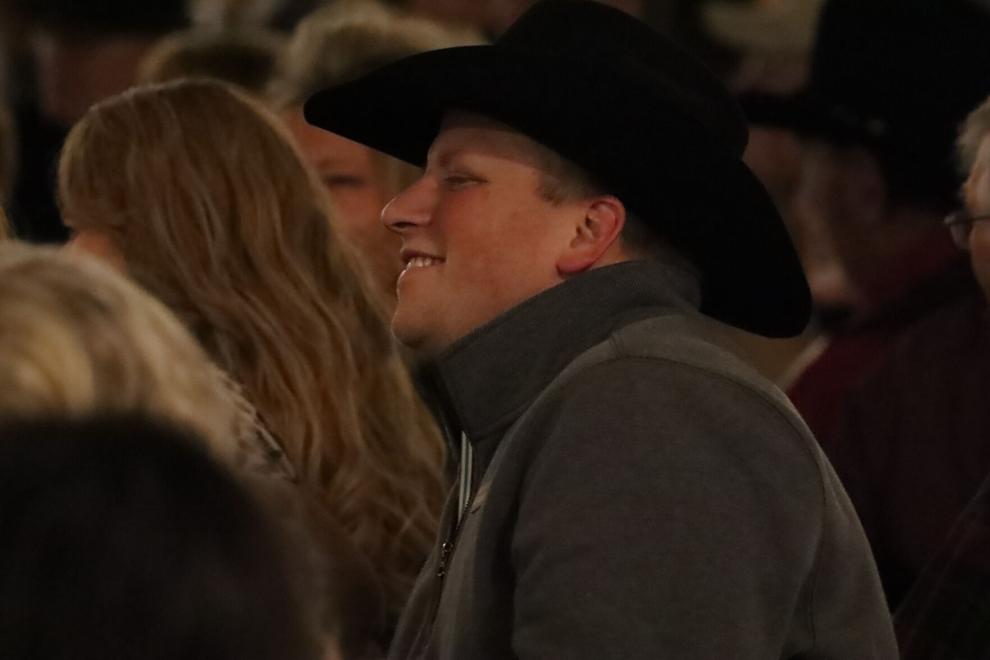 Peterson invited Cook to train with the UNL rodeo team. He soaks up technique from the college rodeo athletes, including Hallie Reeves of Weston. Cook told the crowd how he was blown away as he watched Reeves drive a rig with five horses into the Lancaster Event Center like it was nothing, then single-handedly unload the trailer and horses to get them ready for practice.
"I don't have a player on my team I would trust to even try to do that," he said.
Cook has brought his volleyball players to see the rodeo team compete to illustrate the unique sport, where your turn in the spotlight can last just a few seconds.
"You mess it up, you lose and you go home," he said of rodeo competitors. "Think of the pressure they're under."
Cook's relationship with Peterson and the rodeo team continues to grow. He proudly wore a UNL Rodeo jacket during the banquet, and pitched the idea for a dedicated indoor rodeo arena to Gov. Jim Pillen, U.S. Sen. Deb Fischer and Congressman Don Bacon, who were in attendance.
"We need an indoor arena on campus so I can go rope," he said.
Learning to ride and rope has given Cook a new perspective on coaching. He compares his volleyball players to horses, who are spirited and full of energy. Riders have to build relationships with their horses, just as coaches do with their players.
"The lessons being taught to me are unbelievable," he added.
He's bringing a bit of rodeo to the volleyball team by branding leather with the Husker logo on players' notebooks.
"I want our players to feel they are part of something really special here — Nebraska volleyball — almost like it's branded in their heart. If we can get our team feeling that way, it will be great," he said.
Becoming a horseman has also helped the legendary coach connect with areas outside of Lincoln and Omaha. He's been invited to ride horses in the Sandhills and to witness cattle brandings.
While horses and rodeo were at the forefront of his speech, Cook also talked about his coaching philosophy, which includes tapping into your "why" and developing three bones: backbone (stand up to challenges), wishbone (dream big) and funny bone (passion, joy and love for what you're doing).
The banquet gave Cook a chance to reconnect with a family friend who hails from Wahoo and was the reason he accepted the invitation to speak to the livestock producers and their families.
Wendy Mach, the daughter of the late Larry and Marty Mach, was assigned as a student athletic trainer with the Husker volleyball team in 2008.
Since then, she's come to know Cook as a landlord (while living with Cook's daughter, Lauren), a friend and a mentor. She said he has not only accomplished great things in the Husker volleyball program, he's also advanced women's sports in the state.
"Coach is a great representation for the state of Nebraska," she said.

Lincoln convention center funding bill attracts questions from Revenue Committee
Top Journal Star photos for February 2023