Animatronic Dinosaurs and Giant Bugs Take Over Philadelphia Zoo for Summer, Plus Zoo Key Returns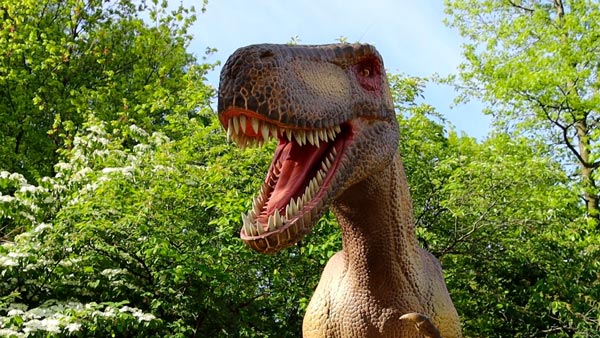 originally published: 04/16/2023
(PHILADELPHIA, PA) — Gigantic dinosaurs and larger-than-life insects have taken over Philadelphia Zoo in a brand new immersive, multi-sensory experience: "STAYING POWER: Be Distinct, or go Extinct!" Walk amongst life-sized animatronic dinosaurs and super-sized animatronic insects and discover the physical traits, behaviors and special skills that allowed insects to survive long after the dinosaurs went extinct.
Featuring 25 different creatures from 100 million years ago to today, STAYING POWER will unveil the adaptations needed to survive on the earth, and how we have the power to make changes to save the planet—and ourselves. Highlights include the 60-foot-long roaring and moving Giganotosaurus, a carnivore believed to be even larger than the famous T-rex, and 15-foot-tall peacock jumping spider that demonstrates its remarkable mating dance. Guests will also marvel at the Spinosaurs, a dinosaur from the late cretaceous period that was equally at home living on land and in water as it growls at passersby, and at a hive of super-sized honeybees that buzz and dance to communicate– you might even catch the scent of their honey!
STAYING POWER opens to Zoo Members Thursday, March 30 and to the public Saturday, April 1.  Tickets are the cost of General Zoo Admission, $25 for ages 12+ and $20 for ages 2-11, children under 2 are free, plus entrance for Staying Power $6 (adults and children ages 2+).  Members enjoy free admission to the Zoo and save on Stayign Power tickets. The Zoo is open daily from 9:30am – 5:00pm.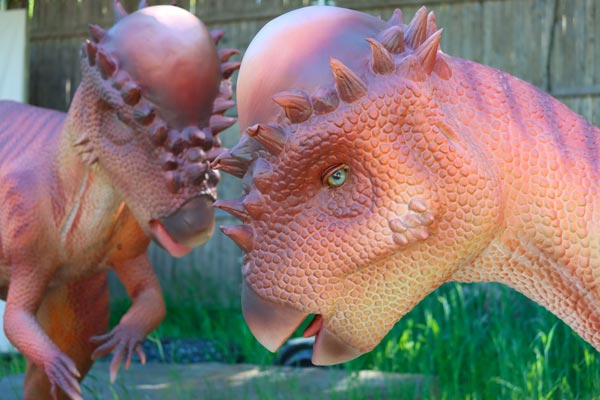 "We are very excited to welcome guests to the Zoo to experience Staying Power, a tailor-made adventure immersing guests in the fascinating world of dinosaurs and insects, highlighting what it means to be adaptable and survive," says Philadelphia Zoo Chief Marketing and Experience Officer Amy Shearer. "Staying Power is a dynamic experience that will put guests side-by-side with some of the biggest and smallest animals to walk the Earth, and challenge guests to look at the adaptations that we have as humans to make a difference for the future of our planet."
To enter Staying Power, guests will walk through an Earth-themed portal and embark on Dinosaur Trail, a pathway that winds among dinosaurs that roar, breathe, move their tail, or even bend over to look them directly in the eye! Then, about mid-way through their journey, passing through a giant magnifying glass, guests enter a super-sized landscape of giant insects that hiss, buzz, click and wave their antennae and move their legs inside the Insect Garden. Guests will also witness the life cycle of monarch butterflies and learn about the threats they face; they'll see giant honeybees working in a hive and learn their essential role in pollination, and discover the simple changes we can make in our own habitats to help insects survive!
Advertise with New Jersey Stage for $50-$100 per month, click here for info
---
Scientists think there are about 5.5 million insect species on the planet—about 75-80% of all animals on Earth. Their incredibly strong exoskeletons, ability to camouflage and power to fly are just a few of the adaptations that give them "staying power." Unfortunately, due to factors like habitat destruction, intense agriculture practices and pesticide use, insects are now showing evidence of rapid decline. Sadly, because there are so many insect species, and so few humans studying them, we don't yet know how serious the problem is. But we do know that the populations at the bottom of the food chain have a direct impact on the survival of everyone else. Fortunately, we also know some ways that all of us can help to prevent this potential crisis.
All the animals and plants that presently share our world are here because they have "staying power." But we alone have the power to change the conditions for life in this world. The actions we take—or don't take—will either improve or reduce the odds for survival of every living being—including us. So, given that we still have a choice, let's choose to use our superpower for good.
Highlights of STAYING POWER: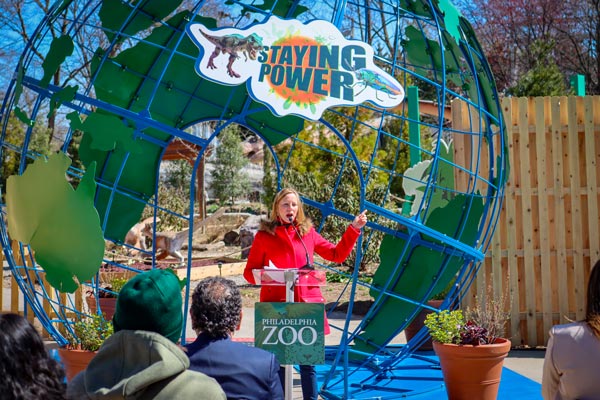 Dinosaur Trail
* The entry is through an Earth-themed portal with an over-arching asteroid entering the atmosphere— we see what dealt the dinosaurs their extinction and why!
* The first dinosaur we encounter is Giganotosaurus—the biggest known meat-eater among the dinosaurs.
*Next,  we find a pair of Velociraptors—6-foot long, highly intelligent hunters with the giant claws!
* A bird-like dinosaur, Gallimimus, reminds us of (really big) ostriches and emus.
* A Parasaurolophus rises above the vegetation it feasts upon — a giant of vegetarian efficiency! It evens grinds up twigs and pine needles with its hundreds of flat teeth.
* An aquatic dinosaur, Spinosaurus, was amazingly buoyant for weighing 13-22 tons (more than two to three male African elephants!)
Advertise with New Jersey Stage for $50-$100 per month, click here for info
---
*No dinosaur trail is complete without T-rex on a tear!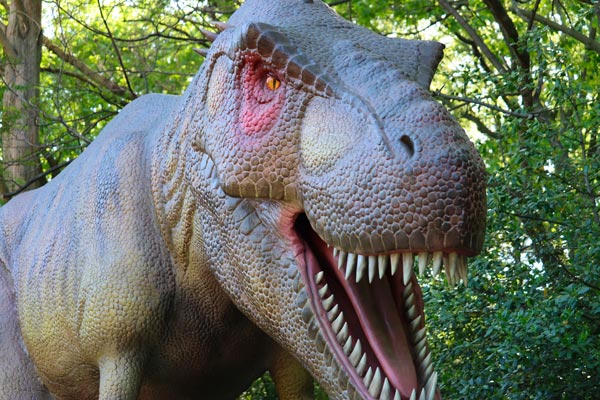 ---
Insect Garden— Under the Scope
* From the land of the dinosaurs, we pass through a giant magnifying glass into a garden of macro views of insects that live among us today.
* A flower beetle reveals the truly spectacular ways in which insects hide in plain sight.
* The hiss of a hissing cockroach greets us as we walk by. We find out right away why this bug is so big!
* We discover a stink bug whose humble appearance does not take away from its powerful skills—at stinking.
* A flame skimmer dragonfly showcases the amazing aerial abilities of this speedy insect.
* A screaming katydid takes us by surprise with its vocalizations!
* The final message of Staying Power is focused on the delicate Monarch Butterfly, that astounding traveler that migrates on the wing from all over North America to the mountain forests of Mexico every year. We learn that they are disappearing but also that there are many things we can do to help them hold onto their staying power.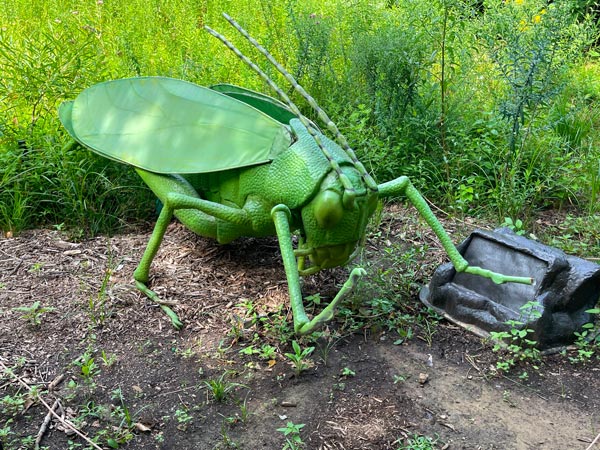 Also new to the Zoo for Staying Power—a special edition dinosaur Zoo Key! The beloved Zoo Key is back for the 2023 season. Guests can use the brand-new Zoo Key (or even one from their childhood!) to unlock untold stories inside of Staying Power and around the Zoo. Learn about our animals directly from the zoo keepers who care for them each and every day. Zoo Key Storybook Boxes are located cross our 42-acre campus and include stories about animals like our adorable sloth bear cubs, Ankole cattle, hippos, penguins and flamingos to name a few. Guest can purchase Zoo Keys at any retail location.
Don't forget to grab something to eat at the newly enhanced dining destination right next to Staying Power, the Watering Hole. Serving up dino-themed main dishes like the Bronto Burger (triple cheeseburger with Siracha ketchup), Triceratops Trio (pulled chicken, pulled pork and BBQ beef slider trio), and the childhood-favorite Dino Nuggets, any appetite is sure to be satisfied. For dessert, indulge in a Chocolate "Dirt" Parfait (chocolate cake, whipped cream and gummy worms) or dinosaur-themed cupcake. And for snacking on the go, grab a bag of Jurassic Trails (house-made trail mix with granola, mixed nuts, raisins and M&Ms) or Raptor Corn (cheese-flavored popcorn mixed with "dinosaur claws" [Bugles corn chips] and pretzel sticks).
Staying Power opens to the public Saturday, April 1 and to Philadelphia Zoo members Thursday, March 30.  Tickets are the cost of General Zoo Admission, $25 for ages 12+ and $20 for ages 2-11, children under 2 are free, plus entrance for Staying Power $6 (adults and children ages 2+).  Members enjoy free admission to the Zoo with advance reservation and save on Staying Power tickets. The Zoo is open daily 9:30am -5:00pm. Last entry to Staying Power is 4:00pm.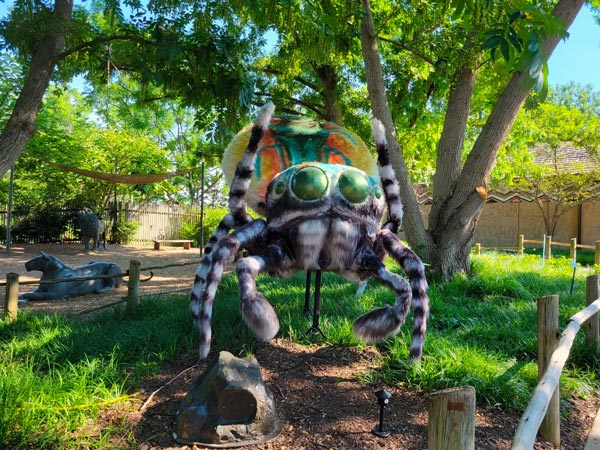 Staying Power was created in partnership with Dino Don Inc., the world's leading supplier of robotic insects and dinosaurs and the only maker of full-sized dinosaurs. The hand-made animatronics are uniquely created under direct scientific supervision. The company's founder, "Dino" Don Lessem, local to the Philadelphia region, is a world-renowned authority on dinosaurs and was the dinosaur advisor to Steven Spielberg's Jurassic Park. He has also authored 40 books on the subject.
---
Animals are on the move like never before at Philadelphia Zoo with Zoo360, a first-in-the-world system of see-through trails passing through treetops, crossing over pathways and connecting habitats, giving animals like amazing big cats, majestic primates and marvelous meerkats the opportunities to travel and explore. Visit our new Ankole cattle, western lowland gorillas, hippos, white rhino, zebras, red pandas, Amur tigers and more at America's first Zoo. Explore our 42-acre garden and enjoy award-winning exhibits like Big Cat Falls, PECO Primate Reserve, McNeil Avian Center, KidZooU, and African Plains, where you can come face to face with the world's tallest animal at our new Giraffe Encounter experience. Philadelphia Zoo is one of the region's foremost conservation organizations and home to nearly 1,900 animals, many rare and endangered. By connecting people with wildlife, Philadelphia Zoo creates joyful discovery and inspires action for animals and habitats. Philadelphia Zoo is accredited by the Association of Zoos and Aquariums. Philadelphia Zoo is a non-smoking facility.
ART | COMEDY | DANCE | MUSIC | THEATRE | COMMUNITY
Chicago

Tuesday, April 18, 2023 @ 7:30pm
Mayo Performing Arts Center (MPAC)
100 South Street, Morristown, NJ 07960
category: music
Click here for full description
---
Our Planet Live In Concert

Tuesday, April 18, 2023 @ 7:00pm
State Theatre New Jersey
15 Livingston Avenue, New Brunswick, NJ 08901
category: music
Click here for full description
---
Little Steven and the Disciples Of Soul

Tuesday, April 18, 2023 @ 8:00pm
Count Basie Center for the Arts
99 Monmouth Street, Red Bank, NJ 07701
category: music
Click here for full description
---
Chicago

Wednesday, April 19, 2023 @ 7:30pm
Mayo Performing Arts Center (MPAC)
100 South Street, Morristown, NJ 07960
category: music
Click here for full description
---
Tape Face

Wednesday, April 19, 2023 @ 8:00pm
Bergen Performing Arts Center (bergenPAC)
30 North Van Brunt Street, Englewood, NJ 07631
category: comedy
Click here for full description
---
Teaneck International Film Festival presents "Free Chol Soo Lee"

Wednesday, April 19, 2023 @ 7:30pm
VIRTUAL
, category: film
Click here for full description
---
WP Voice/Opera Leonard Bernstein's Trouble in Tahiti and Kamala Sankaram's Monkey and Francine in the City of Tigers

Wednesday, April 19, 2023 @ 7:00pm
Hunziker Black Box Theatre
300 Pompton Rd, Wayne, NJ 07470
category: theatre
Click here for full description
---
Selwyn Birchwood

Wednesday, April 19, 2023 @ 7:30pm
Lizzie Rose Music Room
217 E. Main Street, Tuckerton, NJ 08087
category: music
Click here for full description
---
Little Steven and the Disciples Of Soul

Wednesday, April 19, 2023 @ 8:00pm
Count Basie Center for the Arts
99 Monmouth Street, Red Bank, NJ 07701
category: music
Click here for full description
---
The Popular Music Spring 2023 Showcase

Wednesday, April 19, 2023 @ 7:00pm
Shea Center for Performing Arts
300 Pompton Rd, Wayne, NJ 07470
category: music
Click here for full description
---
Joe Holiday's, Reading Rocks Magic Show

Thursday, April 20, 2023 @ 10:00am
Algonquin Arts Theatre
60 Abe Voorhees, Manasquan, NJ 08736
category: kids
Click here for full description
---
Gilligan's Die-Land Murder Mystery

Thursday, April 20, 2023 @ 6:00pm
Avenel Performing Arts Center
150 Avenel Street, Avenel, NJ 07001
category: theatre
Click here for full description
---
---
For more event listings, click here
---